Cut Cut – Cutout & Photo Background Editor 1.7.1 – Download for Android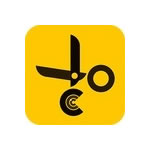 Latest Version:
1.7.1
Platform:
Minimum: Android 4 or higher
Author:
Official website
File size:
~ 23 MB
License:
Free
Security level:
100% Safe
Easily change any photo's background with Cut Cut – Cutout app.
With the app Cut Cut – Cutout & Photo Background Editor, you can easily cut out parts of any photo and insert them into another image to give it a new background. Not only that, but this app has dozens of default background to choose from, including beaches, cities, mountains, and more!
This Photo Background Editor is very easy to use, although it doesn't always create satisfactory results. Basically, you use your finger to color whatever part of the image you want to cut out. The app does have an AI to help, but it doesn't always work well.
Once you've selected the object you want to cut out, just choose a background image to add and adjust it. After that, you can apply filters and a few other retouching effects.
Create fun, interesting collages in a matter of seconds with the easy-to-use photo editing app Cut Cut – Cutout & Photo Background Editor.
Screenshots:
Note:
What's new:
– Easy to share Art to Facebook Story.
– Bugs Fixed.

Also available:
Choose Old Version of Cut Cut Photo Background Editor for Android: