Growtopia 3.02 – Download for Android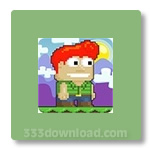 Latest Version:
3.02
Platform:
Minimum: Android 2.3
Author:
Official website
File size:
~ 97 MB
License:
Free
Security level:
100% Safe
Growtopia is an MMORPG that lets you do whatever you want
Growtopia is a 2D MMORPG that lets you do practically anything you want: from building huge mansions to creating puzzles that other players get to solve. All this fun while you steal objects from other players … and other players get to steal from you too.
The thing that stands out the most in Growtopia is that it's a 'sandbox.' In other words, you can let your imagination fly in this game by creating anything you can imagine. This doesn't mean that you can only build things as you can in Minecraft, nope; you can create songs, drawings, levels, puzzles, and so much more.
The possibilities in Growtopia are endless, and once you start playing, you'll even find tons of fun mini-games inside. But, the most entertaining part is interacting with the rest of the users, visiting the millions of worlds that have been created by others and just enjoying the experience.
Growtopia is a colossal online 'sandbox'. In the beginning, you may get a little overwhelmed by the number of features available to you, but, once you're used to it you'll discover how spectacular this game is. Also, when you create an account, you can play using your Android smartphone as well as Windows, Mac or iOS.
Screenshots:
Note:

Requires Android 2.3 or higher.

Also available:
Choose Old Version of Growtopia for Android: