Kindle 8.37 – Download for Android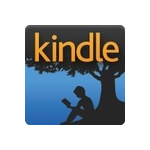 Latest Version:
8.37
Platform:
Minimum: Android 4 or higher
Author:
Official website
File size:
~ 58 MB
License:
Free
Security level:
100% Safe
Read your Kindle books on your smartphone with this app.
E-books are more and more common among reading lovers, and many people are taking advantage of special devices (Kindle) designed for them. Still, paying for yet another piece of hardware is not always the most enticing idea.
This app is here to solve this dilemma since it will allow you to read e-books formatted for Kindle right from your smartphone. And you don't need to have purchased a Kindle to use it.
The program syncs up with your Amazon account to download any e-books you've already bought. Once you've downloaded a book to your smartphone, you can use notes and virtual bookmarks, as well as personalize the font size and number of words-per-line to make your reading experience as enjoyable as possible.
If you have a Kindle, this app can synchronize with that device so that you can pick up a book right where you left off, no matter what machine you're using to read.
Screenshots:
Note:

What's new:
– Several experience improvements and bug fixes.

Also available:
Choose Old Version of Kindle for Android: