Secure Folder – Old version for Android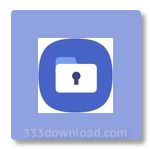 Latest Version:
1.3.01.88
Platform:
Android 7 or higher
Author:
Official page
File size:
~ 14 MB
License:
Free
Security level:
100% Safe
Protect folders with important information with the Secure Folder app.
Secure Folder is an app developed for Samsung that lets you protect any folder on your Android smartphone quickly and easily. With this app, you can create a PIN or password to stand between your files and prying eyes.
You can move files in and out of your protected folders. You can even protect your contacts and photos, creating another line of security on your smartphone. After that, you won't be able to access these protected files even if your smartphone is connected to your computer. Likewise, if someone tries to root your smartphone without your permission, this app will immediately block all the protected content.
How to protect folders on your android phone or tablet?
Secure Folder is an interesting app backed by Samsung. With that comes a guarantee that it runs smoothly and does exactly as promised on any Samsung smartphone with Android 7.0 or higher.
Screenshots:
Note:

Requires Android 7 or higher.

Also available:
Choose Old Version of Secure Folder for Android: