Ad-Aware Free – Download for Windows
Latest Version:
12
Platform:
Windows XP and up
Author:
Official website
File size:
~ 3 MB
License:
Free
Security level:
100% Safe
Destroy every Spyware/adware in your PC with Ad-Aware Free.
Ad-aware Free is a program which eliminates a lot of Spyware, scans the memory, registry and hard drives searching and destroying any Spyware or Adware on your PC.
Detect and delete all versions of Adware, AdBreak, AdReady, Alexa, Aureate, Bulla.com, Comet Cursor, Cydoor, Doubleclick, DSSAgent, EverAd, eZula, Expedioware, Flyswat, HomePageWare, SEBar, OfferCompanion, Hotbar, OnFlow, TimeSink, Web3000, Webhancer, Transponder, Wnad, ZapSpot, SurfPlus, AdvertBar, NetPal, CashBar, WurldMediaBHO, MessageMates, EWA, Ezsearchbar, CommonName, GoHip, DownloadWare, NetworkEssentials, ImiServerIEPlugin, TopMoxie, Lop.Com, BDE Projector, UCmore, OpenMe, JaypeeSysBHo, FlashTrack, NetRadar, NetZany, NetSource,NowBox,TrustToolBar, WinAd, Kontiki, 7faSSt Search, iWonCopilot, BrowserHijackers and more…
Without any doubt, Ad-Aware is a must-have in your PC, from now on, you will be safer than ever.
Screenshots: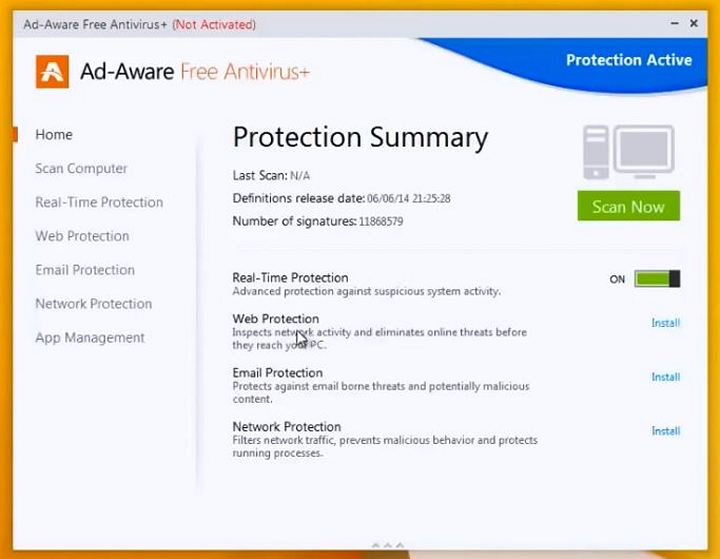 Notes:
Also available:
Choose Old Version of Ad-Aware Free for Windows PC:
ad aware free, ad aware free 32 bit, ad aware free antivirus 32 bit, ad aware free antivirus review, ad aware free download, ad aware free download windows 10, ad aware free download windows 7 64-bit, ad aware free for windows 10 download, ad aware free test, ad aware free update download, ad aware free version, ad aware free without antivirus, ad aware malware free download, ad aware scanner free, ad aware software free, ad-aware free antivirus, ad-aware free antivirus 64 bits, ad-aware free antivirus for windows xp, ad-aware free for windows xp, adaware antivirus free update, baixar ad-aware free, best ad aware free, free adware download cnet, lavasoft ad aware free download