Python 3.8.6 – Download for Windows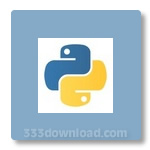 Latest Version:
3.8.6
Platform:
Minimum: Windows XP 64-bit
Author:
Official website
File size:
~ 27 MB
License:
Free
Security level:
100% Safe
Python is an accessible multi-paradigmatic programming language
Python is a free and open interpretation programming language whose main strength is its great versatility, as it supports several paradigms, such as its object-oriented programming, with imperative syntax as well as functional, in line with languages such as Haskell.
There are certain analogies to the Linux philosophy on Python, as two of their main focuses are legibility and syntax transparency. Because of this, learning the language proves to be very easy, with its legibility and its ease-of-use.
Python's standard library modules include an endless number of tools and data structures that are well-known by programmers: variables, lists, Boolean operations, etc.
Python is a very easy-to-use language and learns the language. It uses an elegant syntax that allows for easy reading of the source code. Plus, it's multiplatform and easy to integrate with other languages and development environments.
Screenshots:
Note:
What's new in this version:
– Updates Windows to OpenSSL 1.1.1f
– Ensures the required vcruntime140.dll is included in install packages.
– Avoid hanging when a computer is hibernated whilst waiting for a mutex (for lock-related objects from threading) around 49-day uptime.
– distutils will no longer statically link vcruntime140.dll when a redistributable version is unavailable. All future releases of CPython will include a copy of this DLL to ensure distributed extensions can continue to load.
– Update Windows builds to use SQLite 3.31.1
– Update Windows release build machines to Visual Studio 2019 (MSVC 14.2).
– The package for nuget.org now includes repository reference and bundled icon image.
Also available:
Choose Old Version of Python for Windows PC: