BlueSoleil – Download for Windows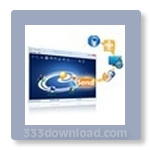 Latest Version:
6
Platform:
Windows XP and up
Author:
Official website
File size:
~ 102 MB
License:
Free
Security level:
100% Safe
Access all your Bluetooth devices from your PC with BlueSoleil.
BlueSoleil is a full-featured program designed to give you access to those Bluetooth devices you have at home which you don't usually use because you can't connect with your PC.
Thanks to this application you will be able to detect and connect any Bluetooth device surrounding your computer (of course you must have a Bluetooth adapter plugged in your PC) No matter if they are mobile phones, PDAs, Headsets, Digital Camera or any other device, it will take no more than 5 seconds to connect it.
It is really intuitive and you will have no problem to get used to it.
Download and install it and live anew Bluetooth experience!!!
Screenshots:
Video review:
Notes:
The demo version allows you to transfer up to 5 MB.
Also available:
Choose Old Version of BlueSoleil for Windows PC: