Calibre 4.21.0 – Download for Windows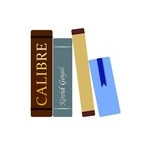 Latest Version:
4.21.0
Platform:
Minimum: Windows Vista 64-bit
Author:
Official website
File size:
~ 118 MB
License:
OpenSource
Security level:
100% Safe
Calibre is an eBook manager with several functions
Calibre is an eBook manager, organizer, and reader with which you will have an organized and cataloged collection, on top of having the possibility to adapt the files to the reader format that you need according to your device.
You will be able to organize your collection on the author, publication date, or publisher among others.
One of the most interesting functions lets you convert between eBook formats, transform a newsfeed to an eBook, or synchronize the eBooks with an external device.
It supports all kinds of formats, both reading and conversion, from the most established ones like ePub, PDF, txt, or RTF to the export to fb2, OEB, or MOBI.
How to sort and manage e-Books?
Another one of its most valued features is the possibility to synchronize your books with your eBook reader, be it an Amazon Kindle or other models like Papyre, Cybook, or the Sony PRS.
Calibre uses an interface in the style of Cover Flow to navigate through the covers of the books. It also lets you edit its metadata from the own interface of the program and explore the collection of eBooks from a web browser.
This latest iteration of calibre comes prepared to meet the requirements of even the most demanding eBook readers out there. Filled with well-designed features and emphasizing handling efficiency, it can be an outstanding performer if you wish to take your library management to the next level.
Screenshots:
Notes:
What's new:
New features:
– Viewer: Improve the interface for changing font sizes
– Viewer: Add a keyboard shortcut (Ctrl+Alt+b) for adding a bookmark
Bug fixes:
– Bulk metadata edit: Fix a regression causing scrollbars to not appear in the Custom metadata tab.
– Viewer: Fix a regression that broke searching in flow mode.
– BibTeX Catalog: Don't output comment describing the catalog as Zotero fails to process it.
– Linux: Fix uninstaller not working on Linux distros that have no python symlink.
– Viewer: Fix zoom step size setting ignored.
– Viewer: Fix text that has font sizes specified using keywords not being scaleable by the viewer's font size controls.
– Viewer: Fix LRF files not opening
– MOBI metadata: When reading author sort from MOBI files, construct the final value from all author fields
– macOS: hide accelerator key underlines since they don't work anyway as Apple does not believe in them
– macOS: Fix keyboard shortcuts for select all, copy and paste not working in file dialogs.
Improved news sources:
– The Nation
– Animal Politico
Also available: