Calibre 5.28.0 – Download for Windows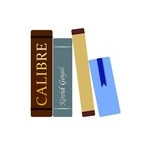 Latest Version:
5.28.0
Platform:
Minimum: Windows Vista 64-bit
Author:
Official website
File size:
~ 110 MB
License:
OpenSource
Security level:
100% Safe
Calibre is an eBook manager with several functions
Calibre is an eBook manager, organizer, and reader with which you will have an organized and cataloged collection, on top of having the possibility to adapt the files to the reader format that you need according to your device.
You will be able to organize your collection on the author, publication date, or publisher among others.
One of the most interesting functions lets you convert between eBook formats, transform a newsfeed to an eBook, or synchronize the eBooks with an external device.
It supports all kinds of formats, both reading and conversion, from the most established ones like ePub, PDF, txt, or RTF to the export to fb2, OEB, or MOBI.
How to sort and manage e-Books?
Another one of its most valued features is the possibility to synchronize your books with your eBook reader, be it an Amazon Kindle or other models like Papyre, Cybook, or the Sony PRS.
Calibre uses an interface in the style of Cover Flow to navigate through the covers of the books. It also lets you edit its metadata from the own interface of the program and explore the collection of eBooks from a web browser.
This latest iteration of calibre comes prepared to meet the requirements of even the most demanding eBook readers out there. Filled with well-designed features and emphasizing handling efficiency, it can be an outstanding performer if you wish to take your library management to the next level.
Screenshots:
Notes:
What's new:
New features:
Edit metadata dialog: Customize cover generation: Allow saving and loading cover generation – settings as "themes"
– E-book viewer: Allow pressing the 0-9 keys to apply a quick highlight style
Book details panel: While clicking tags/authors/etc. holding down the Ctrl+Shift modifier keys – now add the tag to the current search with "AND" instead of "OR" when using only Ctrl
– Add an option to the preferences drop down menu to restart calibre without third party plugins
Bug fixes:
– Edit book: When renaming classes in style sheets only recognize class names preceded by a period
– E-book viewer: Fix lookup in Google partially hidden due to change in Google results page markup
Conversion dialog: Search replace expression builder: Fix incorrect search result highlighting – when non-BMP unicode characters are present in the text
– E-book viewer: Fix popup footnote blank when the footnote link points to a
tag
E-book viewer: Fix jumping to highlights in text that occurs after a line break and newline – character not working in paged mode
– Kindle Output: Strip EXIF metadata from JPEG images as the Kindle renderer has issues with it
Improved news sources:
– Аргументы и Факты
– India Today
Also available: