CrystalDiskInfo 8.17.7 – Download for Windows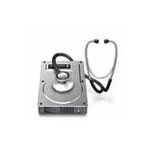 Latest Version:
8.17.7
Platform:
minimum: Windows XP
Author:
Official website
File size:
~ 5 MB
License:
Free
Security level:
100% Safe
Control the health of your Hard Disk with CrystalDiskInfo
CrystalDiskInfo is an application designed and developed to help you keep your HD on fit it can tell you the health of your HD.
CrystalDiskInfo helps you detect and prevent future errors in the disk surface, so you can copy the content to other HD before the crash.
It sounds good, does not it? I think it is a perfect solution and a test that everybody should perform at least once a month, especially if you have important data stored in the HD.
You will see on-screen all data about your Hard disk: trademark, date of fabrication, temperature, buffer size and even the firmware. Do not think it is going to be difficult to know if your HD is in danger, because CrystalDiskInfo shows it in different colors, so if it is green it is perfect and if the color tends to red, you might be buying a new one.
Screenshots:
Notes:
What's new:
– Fixed minor bugs
Also available: