Image Watermarks – Download for Windows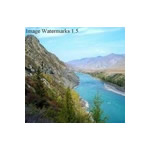 Latest Version:
1.52
Platform:
Windows XP and up
Author:
Official website
File size:
~ 1 MB
License:
Trial
Security level:
100% Safe
Add watermarks to a group of images with just a click with Image Watermarks.
Do you want to publish your photos on the internet but you want everyone to know where they come from? Maybe you just want to add your logo to certain images? Adding watermarks to each image used to mean a lot of work… but not anymore.
Image Watermarks has arrived at your PC to help you with this task. Forget spending whole afternoons in front of a file full of images to add a watermark. Download Image Watermarks and establish the watermark you want for all the photos you want, with just a click.
Decide which type of watermark you want to add if you´re going to add an imagine the level of transparency and if you want to add text, decide on the font, color, size, position and everything referring to the watermark to give it a totally professional look.
And don´t worry, because it doesn´t take any time at all and it´s very easy, following some simple steps you will have your watermark on the photos you want in just a couple of seconds.
Screenshots:
Note:

On the trial version, you can´t apply the watermark on a big scale.

Also available:
Choose Old Version of Image Watermarks for Windows PC: