Inkscape 1.0.1 – Download for Windows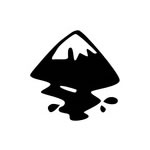 Latest Version:
1.0.1
Platform:
Minimum: Windows XP
Author:
Official website
File size:
~ 88 MB
License:
Free
Security level:
100% Safe
Inkscape is an Open Source vector graphics editor
Inkscape is an open-source vector graphics editor with similar features to Illustrator, Freehand, CorelDraw or Xara X, but this is free.
It uses the W3C standard, Scalable Vector Graphics (SVG). The program includes a good bunch of features and tools and it can deal with formats like PNG, JPG, BMP, or TIFF, it supports layer systems, clones, markers,…
This application can edit XML too, and it includes all main tools included n other really expensive vector graphics editors. Inkscape supports many advanced SVG features (markers, clones, alpha blending, etc.) and great care is taken in designing a streamlined interface. It works well when editing nodes, performing complex path operations, tracing bitmaps, and much more.
The main goal of Inkscape is to be a really powerful and not very difficult to use drawing tool, compatible with XML, SVG, and CSS and we can say it achieves it.
Screenshots:
Note:
New Features:
Color-managed PDF export using Scribus:
– An experimental Scribus PDF export extension has been added. It is available as one of the many export formats in the 'Save as' and 'Save a Copy' dialogs.
– To be able to get a correct and color-managed CMYK PDF file with text converted to curves that correspond to your drawing in Inkscape, you must:
– have Scribus 1.5.x installed (the Scribus executable must not be called scribus-ng)
– have enabled color management for your document
– have selected one color profile to use for the colors in your file
– assign all colors in the document with the color-managed color selector in the Fill and Stroke dialog
– not use filters in your drawing (this includes blur)
– not use any transparency if you're exporting to PDF/X-1, PDF/X-3, or PDF 1.3
– not include any bitmap images
– not use markers
– not use any other SVG features that are not supported by Scribus
– The page size corresponds to the document size in Scribus. When you add a bleed, an area of the given width outside the page area in Inkscape will be included in the PDF file.
Fix a crash:
– when applying Offset LPE to groups (Commit)
– when closing Inkscape while the filter editor dialog is open (Commit)
– with some cursor themes that do not contain an upward arrow cursor (Commit)
– when the file to open does not exist (Commit)
– when resizing a document with a grid, when the document properties dialog is closed (Commit)
– when opening a malformed pdf where the selected page does not exist (Commit)
– when creating a clone of / opening a file with a symbol from an object with a CSS style (Commit)
– when exporting an object identified by its ID to SVG from the command line (Commit)
– when using the dropper tool a lot (Commit)
– when trying to open Inkscape's stock filters file with the Inkscape flatpak version (Commit)
Also available:
Choose Old Version of Inkscape for Windows PC: