Opera 89.0.4447.83 – Download for Windows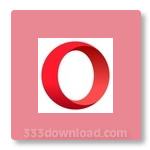 Latest Version:
89.0.4447.83
Platform:
Minimum: Windows XP (64-bit)
Author:
Official website
File size:
~ 81 MB
License:
Free
Security level:
100% Safe
Opera is an excellent alternative browser for Windows PC.
Opera is one of the most optimized and enhanced web browsers. It includes several features which will make easier your days on the internet. Some of those options are tabbed browsing, secure browsing, shortcuts, skinning, zooming,…
Even if you have tried other browsers, this one will seem different, its options and reliability will catch you, it is really useful and fast.
Private browsing
You can activate an anonymous mode for searching on the Internet without leaving any traces behind. When you close the private window, Opera automatically deletes browsing history, items stored in the cache, and cookies.
The web browser makes use of badges for indicating details about the page you have landed on and warns you about suspicious webpages that may contain malware or phishing. For example, when the connection is secure, a lock is revealed in the security badge letting you know that your information remains private.
Plus, the tool blocks insecure content and lets you clear browsing data, namely browsing and download history, cookies, and other site data, cache, clear saved passwords, and autofill form data. Cookies may be blocked or added to the list with exceptions.
Built-in VPN and ad-blocker
One of the features that are most likely to get users to switch to Opera is its built-in VPN, which enables you to route traffic through servers in Europe, Asia, or the Americas. In an age when privacy is becoming increasingly hard to come by, this is a very useful feature.
What's more, the browser is capable of blocking ads while you are browsing, increasing navigation speed, and even blocking some tracking cookies. Thanks to this feature, you may not have to rely on a third-party extension to prevent ads from being displayed.
A fast and reliable web browser
All in all, Opera offers simple, practical, and efficient ways of exploring the web and hides under its hood powerful tools for controlling your online privacy. This mix of features makes it ideal for all types of users, regardless of their experience level.
It is a really good navigator and it has been powered up, so it is a good time to change to this browser and enjoy your days on the internet.
Screenshots:
Notes:
What's new:
– DNA-94119 Upgrade curl to 7.81.0
– DNA-98092 Crash at views::MenuItemView::GetMenuController()
– DNA-98204 Automatic popout happens when video is paused
– DNA-98231 Shortcuts are blocked by displayed tab tooltip when triggered quickly after tooltip appears
Also available:
Download Old Version of Opera for Windows PC: