PDF Editor – Download for Windows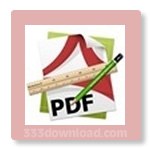 Latest Version:
4.1
Platform:
Windows XP and up
Author:
Official website
File size:
~ 30 MB
License:
Trial
Security level:
100% Safe
Modify some elements from your PDF files with PDF Editor.
PDF Editor is an application that as you can gather from its name, is designed to modify documents in PDF format.
This editor is easy to use, as it works through a comfortable and intuitive interface in which we will easily find all the options the program has.
To edit the document content, this tool first identifies the elements of the page so that we can operate on each one of them individually.
In the editing options that PDF Editor presents, we have the possibility to add text, modify images, eliminate certain elements or link some element to our web page, e-mail address, etc.
Furthermore, we will also be able to create our PDF documents from scrap, from image files (BMP, TIP, GIF) or text files.
Features:
Add PDF Digital Signature to PDF file.
Copy contents, such as text and image, to clipboard.
Add comment and annotation to PDF.
Add contents including text and shapes to PDF.
Edit contents including text, text fonts, and colors.
View and edit PDF description, such as title, author, subject and keywords.
Export comments, forms or links to files.
Import comments, forms or links from saved files.
Add and edit PDF bookmarks and hyperlinks.
Unlimited levels of Redo and Undo for correcting mistakes in PDF editing.
Revert to the original status with canceling any editing operation.
Smartly search PDF pages with given keywords.
Flexible view options, such as zoom in, zoom out, actual size, fit width, fit page, previous, next page, etc.
Create PDF from one or multiple image files.
Create PDF from an image on the system clipboard.
Convert PDF from EMF, BMP, WMF, JPEG, GIF, TIFF, PNG, TGA or PCX format.
Convert PDF from any printable document with the help of PDFcamp Printer.
Convert and combine multiple files into one single PDF.
Convert PDF to BMP, WMF, JPEG, GIF, TIFF, PNG, TGA, PCX, or TXT format.
Add Digital Signature, Comment, Annotation, Hyperlinks, Bookmarks to PDF files.
Screenshots:
Notes:
The trial version adds a watermark to the pages of the document that have been modified.
Also available:
Choose Old Version of PDF Editor for Windows PC: