Pivot Stickfigure Animator – Download for Windows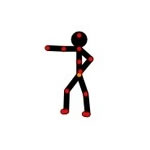 Latest Version:
4.2
Platform:
Windows XP and up
Author:
Official website
File size:
~ 1 MB
License:
Free
Security level:
100% Safe
Create stick figures in a matter of seconds with Pivot Stickfigure Animator
Pivot Stickfigure Animator is an application which lets you create simple animations with stick figures though you don't know anything on Flash animation.
It's a useful tool to create those simple and funny creatures formed by sticks which can form a full story with no complications. Draw your characters, define the articulation points and give them life. The articulation points will save you lots of minutes.
Animations must be created scene by scene, there?s no other way to do it. Draw one scene after another and then, once it is finished press play and admires your own creation.
And if you want, add some backgrounds and new characters and create your own animations.
Screenshots:
Note:
Also available:
Choose Old Version of Pivot Stickfigure Animator for Windows PC: