Watermark Image – Download for Windows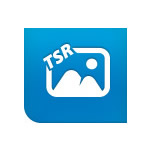 Latest Version:
3.0.7
Platform:
Windows XP and up
Author:
Official website
File size:
~ 14 MB
License:
Free
Security level:
100% Safe
Add watermarks to your images and resize them with Watermark Image.
Watermark Image is an efficient tool that lets you protect your images with copyright in a simple and automatic way.
The program allows you to add a text or graphical watermark to an entire batch of images whose number can be unlimited and contain different sizes.
All you need to do is choose the source folder and destination folder and choose the different parameters for both the watermark inclusion and the resizing options, in case you want to modify the size of all these images.
Within the watermark configuration options, you can add transparency, place it in different areas of the image or choose the font type and size, should the watermark be in text format.
This way, you won't have to waste countless hours adding watermarks to your images to ensure no one uses them without your permission.
Screenshots:
Note:
Also available:
Choose Old Version of Watermark Image for Windows PC: