X-Wave MP3 Cutter Joiner – Download for Windows
Latest Version:
3.0
Platform:
Windows XP and up
Author:
Official website
File size:
~ 2 MB
License:
Trial
Security level:
90% Safe
Record and edit any MP3 with no quality loss with X-Wave MP3 Cutter Joiner
X-Wave MP3 Cutter Joiner is an audio editing tool specifically designed to join and separate audio files. Thanks to this application, you can create more complex tracks and easily record your own music.
The first thing that catches your attention is how easy it is to use the program, allowing you to perform very interesting actions as soon as you start using it. You won't find heaps of options, a great variety of time bars or different tools, but you will enjoy a few very well presented possibilities. Which in this case is a real success?
Copying and pasting WAV and MP3 files is done by clicking and dragging the mouse, while the option to standardize or record your own voice can be done by simply clicking on the corresponding icon. This icon can be accessed directly from the system tray. As simple as that.
X-Wave MP3 Cutter Joiner is a very useful application for novice users who are looking into further developing their musical talent or start recording some of their own material.
Screenshots: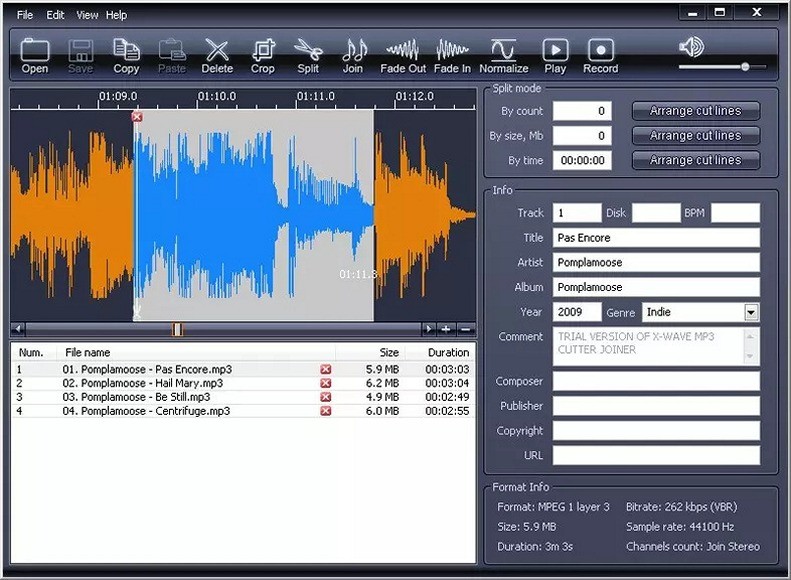 Note:
Also available:
Choose Old Version of X-Wave MP3 Cutter Joiner for Windows PC: