XnSketch 1.18 – Download for Windows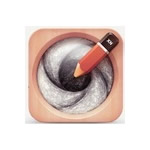 Latest Version:
1.18
Platform:
Minimum: Windows XP
Author:
Official website
File size:
~ 12 MB
License:
Free
Security level:
100% Safe
Edit your photos and transform them into drawings and paintings with XnSketch.
XnSketch is a free application designed to convert your photos into drawings or give them a charcoal look, to make them more original and entertaining.
The interface in this tool is very easy to use; just browse the images, pick one and apply all the effects you want, which are located in a toolbar below. With just a few clicks, you will have a professional-looking result.
In addition, you can tweak and improve the results with basic controls for luminance, color, contrast, and exposure placed to the right of the main screen.
XnSketch includes:
– 18 different effects: black lines, whites, pastel, pencil sketch, drawing…
– The sharpness of the edges and opacity settings.
– Tools for setting contrast, brightness, saturation.
Also, if you want, you can share your XnSketch results on social networks, like Facebook, Flickr or Picasa.
Screenshots:
Note:
Also available:
Choose Old Version of XnSketch for Windows PC: